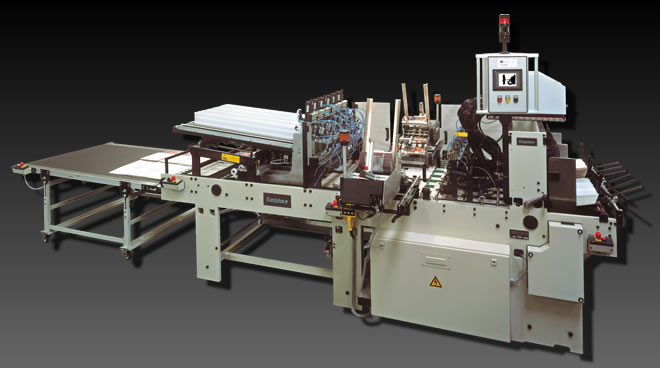 Highlights
CD/DVD-Trays just in place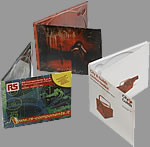 The EasiPlace machine has been designed to combine DVD/CD trays with their backing folders, placing up to six trays in one operation.
The unit is comprised of
a cast iron framework supporting the conveyor system,
timed belt feeder,
a 12 head hot melt gluing system,
gravity feed tray placement system,
indexing delivery table.
Kohmann machines: Well done!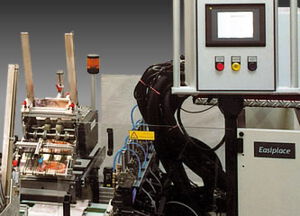 The timed belt feeder is designed to handle up to a 7-panel carton. With the addition of change parts (included) the machine is able to run 2 streams (any combination of 7 panels), 3 streams 2 panel (optional extra).
up to 6 trays
up to 3 streams
optional booklet feed
electronic feed
high precision, easy to set
places up to 18.000 trays per hour
Easy operation and maintenance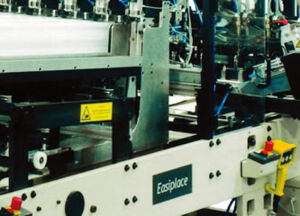 The hot melt gluing system is kept totally separate from the main operating system for ease of maintenance and troubleshooting.

The glue controllers are mounted in an accessible area adjacent to the machine control panel. The glue tanks are mounted above the conveyor. The magazins can be adjusted utilizing manual winding mechanism to suite the size of the carton tray panel.
Placing and fixing CD/DVD trays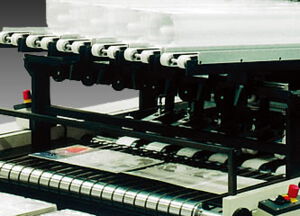 The fixed pushers on the conveyor will carry the carton from the deposit position of the feeder, past the gluing station. The pushers then push the DVD trays out of the intermediate holding position onto the preglued card, where they are pressed down with a roller.

Completed units are then fed onto an out feed conveyor that can be set either to 'feather' or stack the product ready for packing.

The machine design incorporates as standard features:
ease of set-up
quick changeover times from one job to the next
simple operating systems
These design features lead to substantial cost savings in initial outlay and daily operation compared to existing machines on the market.
... plus: It's a Kohmann!
other CD/DVD Tray Placing Machines