Key Features
The machine produces CD-/DVD-sleeves out of carton blanks. Also complicated blanks are precisely folded and glued in one single operation.
Highlights
Easy operation and function control
Practical systems for control and adjustments facilitate the perfect handling of the machine.
Trombone section with optical counter
Marking device
Optical control of shingle stream switching the pressure belt on and off.
Pressure belt is equipped with its own drive
Display for production speed, counter, pre-setting of marking mechanism
Feeder driven by independent drive
Potentiometer for stepless speed control
Feeder with vibrating device
The feeder for the blanks is optimally adjustable. The distance between the single blanks is adjustable by means of a separated drive.
Vibrating device
Chromed guides reduce friction effects
Feeder driven by independent drive
Pre-brake of crease I und III
Vertical adjustment of the upper pressing guide with screw thread and locking lever
Width adjustment with crank handle and spindles
Folding station with chromed knife guides
Guidances running in ball bearings to reduce friction
Width adjustment with crank handle and spindles
Media-Section with flexible expandabilities
The device can produce special CD-, DVD- or slipcase boxes. Further options can be incorporated on request.
Gluing unit
Easy access to the glue station for easy cleaning and setting. On request hot or cold glue systems can be installed onto the machine.
Bottom disc glue unit, glue scraper and glue container
Easy adjustable glue disc with scraper
Window styles


Gallery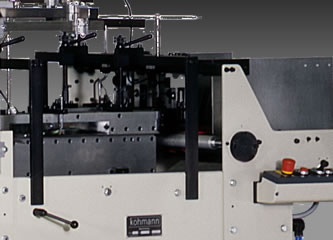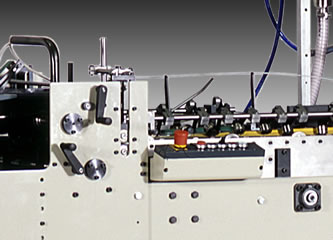 Technical Specifications
MediaStar 620
Running Speed
180 m/Min.
Box Format
min. width
max. width
min. length
max. length
60 mm
520/620 mm
50 mm
400 mm (+special formats)
Carton Weight
200-400 g/m2
Drive
maintainance free , drive belt
Power supply
AC
400V 50/60Hz
Space requirements
6500 x 1200 mm
Weight
approx. 1300 kg
The use of some special accessories requires compressed air supply of 6 bar.